Parents are seeing red after a Primary School's uniform fees were circulated in popular mother's group North Shore Mums.
Posting in the group one mother wrote she was looking at the uniform policy for the public school her daughter will go to in 2021.
"Does anyone else think it really stinks that a girls uniform costs more than a boys one?" The mum posted.
"She only has the option of a summer tunic that costs $55, whilst boys have shirt and shorts that total cost $44. How is that fair and equitable??"
"For winter, she ca wear a winter tunic and long sleeve top, total $75 (actually $85 if you include tights or knee-length socks) Or blouse and trousers $6t0. Whilst the boys with log sleeve top and trousers equal $53."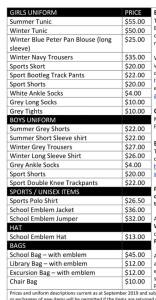 Commenters were quick to support the mother.
"You are 100% right. It's not fair!" One commenter posted.
"Lots of mums here are saying that the uniform list should be gender neutral," said another.
"The feminist in me is hoping by the year my daughter starts school dresses will be banned…. Mothers of girls, please encourage the girls to chose(sic) shorts and pants. The so called 'girls uniform' is not compulsory. They can wear both options," said another mother.
Some defended the unnamed school saying tunic's might cost more to produce.
"Our dresses are $50 a pop because they're hand sewn by a local lady," said one commenter. "It's not a conspiracy."
But others were quick to bite back.
"No one is saying it's a conspiracy. But there is a literal premium to be paid here for being a girl. Why not make the girl's uniform less elaborate so parents don't have to penalised for having girls?"
Eventually the poster turned comments off as some users were "getting a bit nasty."