Melbourne cyclists have taken to the crowdsourced cyclist safety app BikeSpot2020 to pinpoint which suburbs are the most dangerous for bike riding.
Cyclists have listed the CBD, Footscray and St Kilda as top of the list as most dangerous throughout the metropolitan area.
Over 4,000 'safe' and 'unsafe spots' have been added to the app across the greater metro area.
There have been 258 votes for unsafe spots in the CBD, followed by 96 in St Kilda, 93 in Footscray and South Yarra with 82 votes.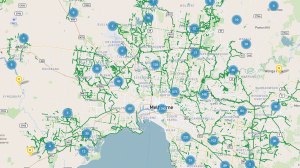 However, cyclists' fears don't always match accident data, with Footscray's LGA recording one of the lowest crash numbers, The Age reports.
You can find the map, along with descriptions of all safe and unsafe spots here.