A woman has received a surprise after finding a note and $5 inside a tin of baby formula.
In a post on Facebook, Tillz Siofele admitted she first thought the gift was "strange" but then realised the gesture was very sweet.
Ms Siofele said she had sent her husband out to purchase the product last week before opening it to find the note and the money inside.
The letter reads, "Enjoy this little something. Happy wealth Wednesday."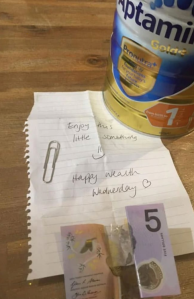 After sharing it on social media in a bid to get answers, it was revealed a local woman named Susanna Lucy was behind it and is known for leaving little gifts for people in groceries.
According to Ms Lucy, it's not the first time other mothers have passed on kind gestures. What a sweet way to share the love around!
Missed The Christian O'Connell Show? Catch up by clicking play below and join us from 6AM every weekday!