A woman from the UK has said she has found a HUMAN TOOTH her in her takeaway.
Stephanie McDonough shared photos, of what looks like a tooth' on Facebook this week.
The woman shared multiple images of the tooth amongst her meal.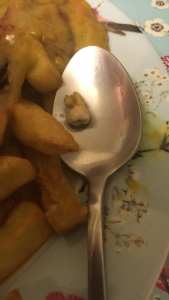 She went on to contact the Chinese Take Away, who said that the tooth was 'gristle' or 'could be from an onion'.
However, the restaurant did offer her an $11AUD refund for the part of the order that she had an issue with.
Missed The Christian O'Connell Show? Catch up by clicking play below and join us from 6AM every weekday!