Australians are being warned to not click or partake in a Woolworths voucher scam that is doing the rounds amid the Coronavirus pandemic.
Links have been surfacing in email inboxes, asking people to claim a $250 COVID-19 shopping voucher.
Scamwatch has said the offer is not real and those who receive should ignore or detail the email straight away.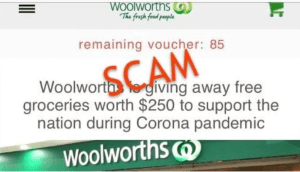 A growing number of coronavirus scams are being reported to the consumer watchdog.
"We've had a wide variety of scams reported to us, including fake online stores selling products claiming to be a vaccine or cure for coronavirus, and stores selling products such as face masks and not providing the goods."
So, if you see it, ignore it!
Missed The Christian O'Connell Show? Catch up by clicking play below and join us from 6AM every weekday!