A mum who shared snaps of herself breastfeed and having a fake tan 'fail' has found herself at the centre of an unlikely social media storm.
Keziah Jozefiak's five-month-old son was left with a brown 'beard' on his face when the 20-year-old was feeding him, forgetting she had just applied fake tan.
The results left the boy with a brown smear over the bottom of his face.
The mum found this hilarious and posted it to Twitter but users didn't find it so funny, with one saying ''I'm a breastfeeding mum and no way in hell would I ever risk it. Baby's health should come before her vanity.''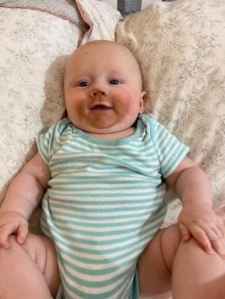 Others did find it funny with one saying 'an easy mistake you could only ever make once.
Keziah, who is from Derby in the UK, told The Sun "I couldn't believe the tan had left his mouth looking like Homer. Raf was asleep so I thought I could squeeze in some tanning time, but he woke up starving mid-tan."
She went on to say "the first and definitely last time I feed him with my tan still on. It hadn't actually occurred to me that the tan could transfer onto him. I took a picture and sent it to my girlfriends and they were all laughing as well. Everyone is finding it hilarious and my mum rang me in tears, she found it so funny."
Missed The Christian O'Connell Show? Catch up by clicking play below and join us from 6AM every weekday!