A British mum of five has been left mortified after her husband decided to get her face tattooed on his thigh.
While some would see it as true love, Kerry McGraw was left horrified, as he got a photo of her asleep on a plane tattooed.
Speaking to The Sun, Kelly said they had been playing pranks on each other for decades but this was the biggest prank yet.
"We're just a normal family but our banter's got out of hand," she said.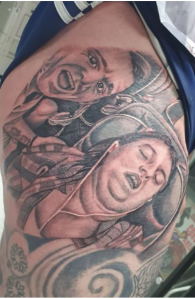 "I was horrified. I couldn't believe it. I hated the photo so much."
Kelly has now warned James that "karma's a b***h".
Oh dear.
Missed The Christian O'Connell Show? Catch up by clicking play below and join us from 6AM every weekday!