This is not a joke.
Australia's fave cheese (as voted for by us, right now) is delivering FREE CHEESE to your office to help perk you up and get you chatting to your colleagues.
Cracker Barrel has undertaken some research that shows 74% of employees said that get-togethers over snacks make them feel happier and more connected in the workplace, but only 29% of employees said their company organised Friday afternoon snacks.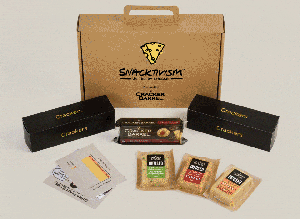 So to help you get together and relax, you can order a snacktivism pack from November 25, here, and you will have your order delivered from the 29th November.
Mike Murray, Head of Marketing at Saputo Dairy Australia said the promise of Friday snacks can often keep us going through a tough week.
"That's why Cracker Barrel is empowering all employers and employees to introduce Friday snacks into their workplace. We know snacking brings people together and we're passionate
about fostering connectivity and helping colleagues become friends in workplaces across Australia.''