A supermarket roast chicken is still one of cheapest ways to feed the family at $8 but a free supermarket roast chicken is still quite a bit cheaper!
A Coles supermarket in Adelaide is offering customers free roast chickens, it has been revealed by a hawk-eyed shopper on Facebook.
The woman posted an image of a small sticker that promised customers a chicken for free if there was no chickens in the cabinet between 11am and close.
The word from Coles, via The Daily Mail, is the deal is only available at select stores and the times also vary from store to store.
Further research shows the little-known policy has actually been around for many years, with a customer posting on Coles' Facebook wall back in 2013 that they did receive a voucher.
"hi coles, just an update on my quest for hot chickens, i have already redeemed the free hot chicken voucher i was given (thank you it was delicious)," the happy customer wrote.
Evidence of the actual voucher is also available on the internet, with this one showing up in 2017…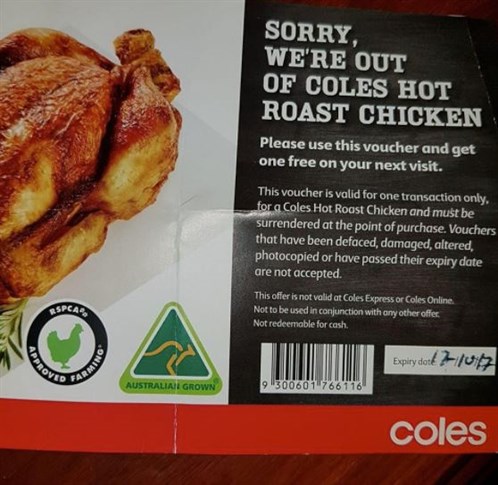 Apparently that voucher was for the next day only.
Worth keeping a look out for the stickers, particularly if you see the shelf empty!
Missed The Christian O'Connell Show? Catch up by clicking play below and join us from 6AM every weekday!