The ALDI gods have delivered, yet again. And you know what? It's time to get a 'lil fancy.
Discount grocery store ALDI is selling a *real* bottle of French Champagne (yep, from the 'champagne' region of France) for a measly $25.
No, we're not kidding. It's official – Champagne is no longer a 'fancy person' thing.
ALDI's Monsigny Champagne Premier Cru not only has positive reviews galore online, it has a Sydney International Wine award under its wing. Not convinced? It has notes of brioche, pear, citrus and honey. I don't know about you but I'm sold!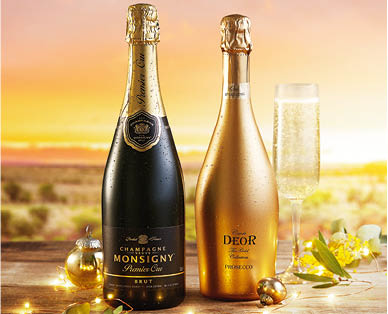 "Each village in the Champagne region of France is rated for quality," reads the website. "Just 43 villages achieve the enviable status of 'Premier Cru'".
Ooh la la…
Can't afford $25? Don't worry, we're not judging you, nor is ALDI. The discount grocery store is also selling another award-winning champagne on special for $19.99. Let me guess… you spent more on lunch today?
Thank you, ALDI. You truly are a lifesaver.
Missed The Christian O'Connell Show? Catch up by clicking play below and join us from 6AM every weekday!