An angry mother of a bride has shared the photos of her daughters lopsided wedding cake, that was held up with kebab sticks.
Lorraine Gaynor was left stunned when the cake arrived for her daughter Gemma Murdock, who got married on September 25.
Gemma had spent $300 on the cake and asked for a three tier creation after seeing their designs on Facebook.
However, the cake arrived and wasn't as planned, leaving Gemma 'very upset'.
Outraged, Lorraine took to Facebook to share photos of the couple's "wedding cake disaster" that showed the true horror of the sad-looking dessert.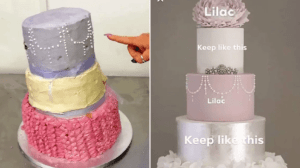 "This was supposed to be my daughter's wedding cake. Craft glitter, kebab sticks and cost a lot of money."
The photos show a cake that has a purple top layer, cream middle and pink base layer, which didn't look very well decorated and was patially melted.
Making matters worse, the cake maker had used inedible glitter.
Beside the photo uploaded to Facebook, was a picture of what the cake was going to look like.
Ouch.
Missed The Christian O'Connell Show? Catch up by clicking play below and join us from 6AM every weekday!