A bold plan to shake up the hours of operation to the Queen Victora Market has recieved mixed reactions from stallholders.
Chief Executive of QVM Stan Liacos flagged a change to the opening hours last year.
"It's confusing now because we're open at different hours on different days. This plan is about smoothing the hours out and making it easier for customers.''
Mr Liacos recognised that not every stallholder was on board with the idea.
"Feedback from traders has been unsurprisingly mixed,'' he said.
Stallholder Leah Moore told The Herald Sun that more than 95% of traders don't want the extended hours of operation.
"We all have families and it cuts into our family time. If you shut at 5pm, you are closing up till 6pm and not getting home till much later and then often to prepare for the next market day,'' Ms Moore said.
"It's just too long a day. Many of the fruit and veg guys are up at 3 or 4am anyway to get to the wholesale markets — that's what a fresh produce market is.''
The current hours of operation are: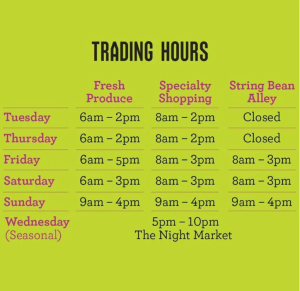 And the proposed new trading hours: