It's been labelled the most awkward video of 2017… despite the fact we're only four days in.
Now it seems we have an answer behind what happened during The Loop's televised New Year's Eve countdown.
While it almost escaped notice, footage from the Channel Eleven show has gone viral after the lacklustre performance of its "competition winners" who could barely muster up the enthusiasm to celebrate the New Year.
According to hosts Scott Tweedie and Olivia Phyland, the group had won the opportunity to join them for the countdown.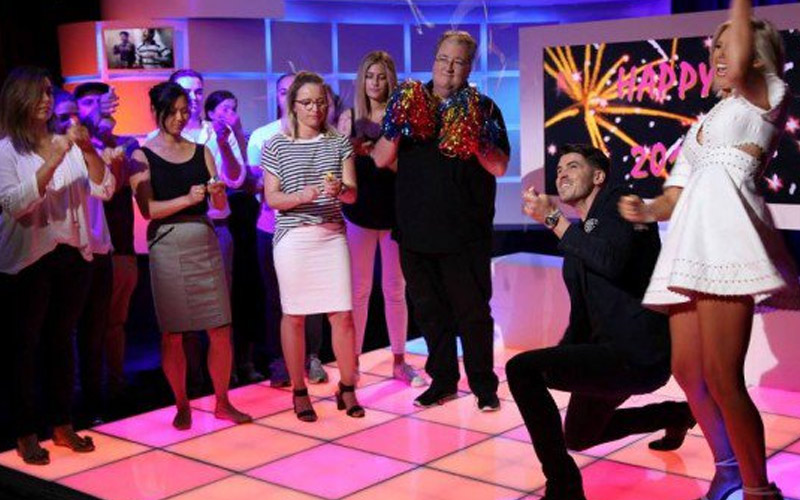 However, their unamused expressions suggest their time on set left little to celebrate.
As people debate if it was for real or a clever set up for publicity, there are a few clues pointing to the latter.
The first indication the segment was not just pre-recorded, but likely set-up, starts with Phyland's Instagram account.
The host shared a snap of her celebrating the New Year far from any TV studios, quickly putting to rest any question of the show being live.
If that isn't enough to convince you, a closer inspection reveals the group wearing what would appear to be work outfits – seriously where's the New Year's glitter?!
While it may seem like that's case closed – because they're obviously network staffers, there is one point of contention that may have you believing otherwise.
According to Mamamia, a former Ten employee says he's never seen any of those people in his life.
Their theory?
"They'd be winners but there was probably a skeleton crew on and no one to rev them up before they appeared I'm guessing," they claimed.
We're still going with the first theory.
TRENDING NOW: Watch The Incredible Moment 2yo Saves Twin Crushed By Dresser
Missed The Christian O'Connell Show? Catch up by clicking play below and join us from 6AM every weekday!