Walt Disney Co's ABC network has cancelled the popular US television comedy Roseanne after star Roseanne Barr sparked outrage by comparing a black former Obama administration official to an ape in remarks on Twitter.
"Roseanne's Twitter statement is abhorrent, repugnant and inconsistent with our values, and we have decided to cancel her show," ABC Entertainment president Channing Dungey said in a statement on Tuesday.
Disney chief executive Bob Iger added on Twitter: "There was only one thing to do here, and that was the right thing."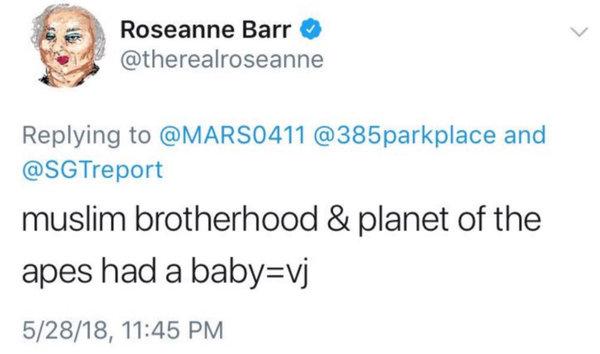 In a since deleted comment on Twitter, Barr compared former Obama adviser Valerie Jarrett, 61, to an ape.
She wrote that if the Islamist political movement "muslim brotherhood & planet of the apes had a baby = vj."
Barr, 65, apologised "for making a bad joke" about Jarrett, who is black and was born in Iran to American parents. In the fallout, her agents, ICM Partners, dropped Barr as a client.
I apologize to Valerie Jarrett and to all Americans. I am truly sorry for making a bad joke about her politics and her looks. I should have known better. Forgive me-my joke was in bad taste.

— Roseanne Barr (@therealroseanne) May 29, 2018
"We are all greatly distressed by the disgraceful and unacceptable tweet from Roseanne Barr this morning," ICM Partners said in a statement on Tuesday.
"What she wrote is antithetical to our core values, both as individuals and as an agency. Consequently, we have notified her that we will not represent her. Effective immediately, Roseanne Barr is no longer a client."
Barr signed with ICM last August, just as the reboot of Roseanne went into production.
Roseanne was ABC's biggest hit of the 2017-2018 season.
The show drew an average of 18.7 million viewers, second only to CBS sitcom The Big Bang Theory, according to Nielsen data through May 20. Jarrett, through spokesman Jordan Finkelstein, declined to comment.
The original Roseanne aired from 1988 to 1997. It featured a blue-collar family, the Conners, with overweight parents struggling to get by and was praised for its realistic portrayal of working-class life.
President Donald Trump has latched on to the show's huge viewership as evidence that his supporters, which include Barr, want shows that speak to their concerns.
AAP
Missed The Christian O'Connell Show? Catch up by clicking play below and join us from 6AM every weekday!