Just when we thought things couldn't possibly get any worse between Rob Kardashian and Blac Chyna, the couple's feud has intensified even more.
The pair, who announced they had split on Saturday, were caught in a very public argument after Rob posted a yearning photo of his baby daughter Dream to social media.
The 29-year-old Keeping Up With The Kardashians star captioned the image: "I really miss this girl, never felt so in love with someone the way I do with you Dream! Look she has her thumbs up.
"Never thought a woman would try to take my happiness when all I wanted was to make her Happy. Man this is awful. Closing my eyes cuz this is draining."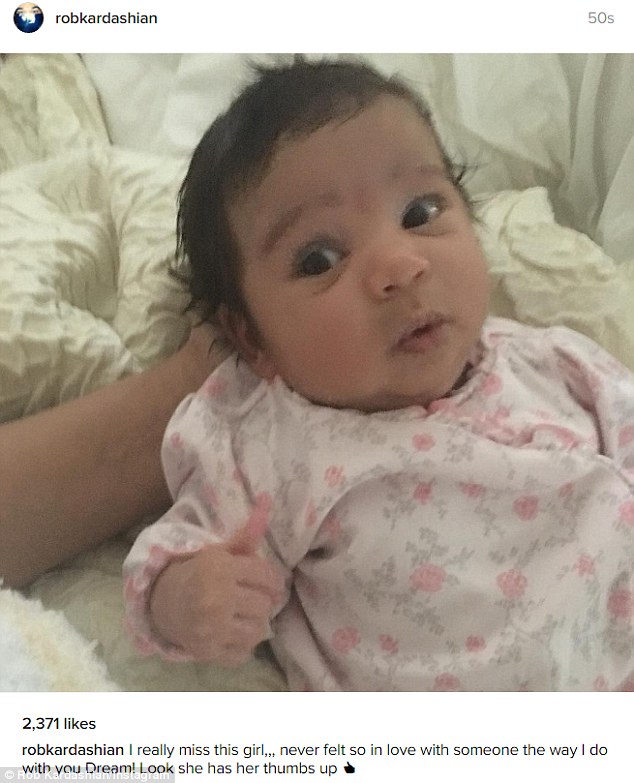 Image: Daily Mail via Rob Kardashian Instagram
Chyna, 28, then jumped on Rob's account to defend herself, telling him to stop.
"Rob stop it man! I sent u this pic!!!!!" she wrote in the comments section.
Rob responded: "@blacchyna and u texting me on my comment section on here proving my point even more. U blocked me and it's f***** up and I'm heart broken. I loved every inch of you."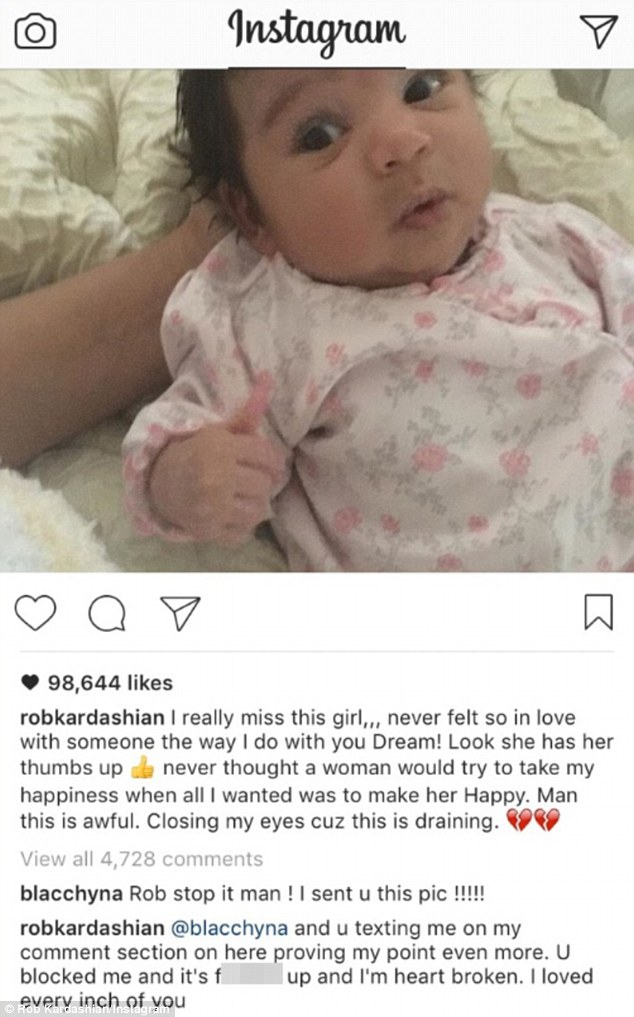 Image: Daily Mail via Rob Kardashian Instagram
Rob announced on Saturday that he had been left heartbroken after he came home to discover his fiancée had left him and taken their one-month-old daughter with her.
Rob documented the ordeal with a series of devastating now-deleted Snapchat videos, after he came home to an empty home, claiming Chyna took everything with her.
"So I get home and Chyna took the baby, took the whole nursery we built," he says in the video, which has sine been deleted. "And Chyna took everything that we built for the nursery for the baby Dream and she left, and she just left me alone and took the baby."
"I'm pretty upset and I'm pretty sad because it's about to be Christmas and I want to be with my baby," he says.
"I gave everything I owned for her. Didn't know I was just part of her plan. I really believed she was in love with me the way that I was with her and I am so hurt," he wrote on Instagram.
Shortly after, Chyna then took to her new Instagram account to confirm she had left Rob in a lengthy message, which has also been deleted.
It read: "I'M DONE! This entire year I have done nothing but help Rob! It's so SAD & PATHETIC how low he'd stoop to cover up HIS PERSONAL ISSUES!
"I have done nothing but help and loved him from the beginning! It's Chy here I got my own!!! I was doing swell before I got with him!
"Rob asked for all of this! Rob begged me to have Dream! He stressed me out my ENTIRE PREGNANCY!!! Accusing me of cheating, going crazy on me with massive text blast daily!
Being an absolute lunatic and then cover [sic] it up with gifts! I was verbally abused every other day. I was still there with nothing but high hopes for us!
"I PUT MY PRIDE ASIDE & I GAVE UP MY HOUSE TO MOVE INTO KYLIE'S HOUSE WITH HIM TO BE WITH A MAN!! We weren't together in that house two whole weeks before he starting [sic] calling me all types of bitches & hoes! AND I NEVER NOT ONCE [sic] CHEATED ON ROB! EVER!" she wrote.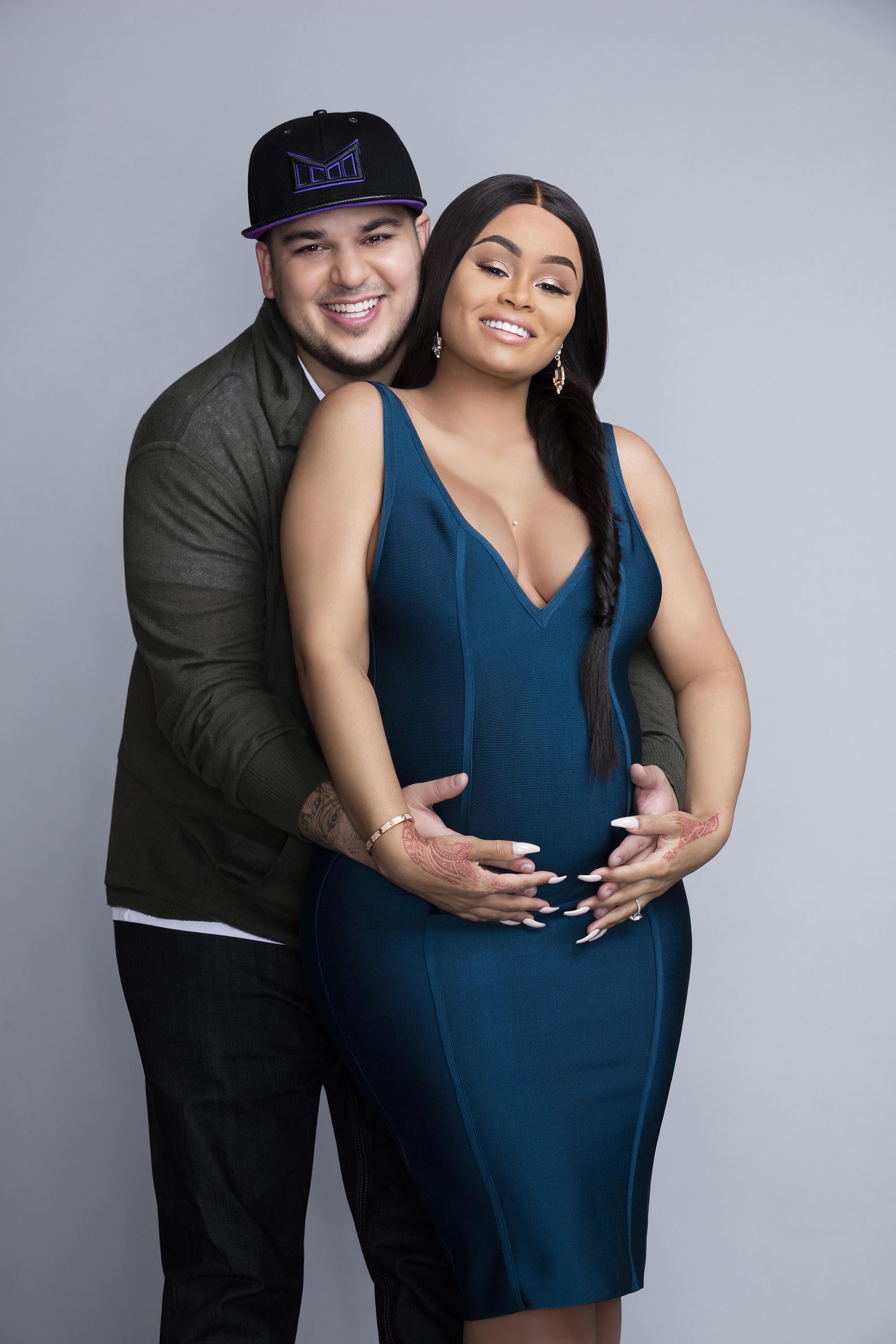 The shock split comes after Chyna's Instagram account was hacked on Sunday, with the hacker posting a series of screenshots of alleged conversations from Chyna's phone with her friends and lawyer.
The images appear to show Chyna admitting she was only with Rob to gain access to and trademark the Kardashian name, and she also calls Rob "far, lazy and insecure."
The pair have been starring in their own E! reality series Rob and Chyna, and their Rob & Chyna Baby Special aired on Sunday.
In the videos, Rob insisted that the drama was not a publicity stunt for the special, which documents the birth of baby Dream last month.
"I can't believe she did this to me. And this isn't for some ratings this is my real life," he wrote. "Cuz [sic] if it was for ratings I wouldn't explain all this here.
"I am broken,' he went on. "I am so confused how a man who gives and loves everything about a woman is the one left alone."
The pair began dating early in 2016 and announced their engagement in April, and revealed they were pregnant in May.
Source: Daily Mail
Missed The Christian O'Connell Show? Catch up by clicking play below and join us from 6AM every weekday!