The Bali nine duo, Andrew Chan and Myuran Sukumaran were executed last night at 3.25am local Australian time.
Gun shots were heard by reporters across the water from Nusakamgangan after a decade of hope.
However it took Indonesian authorities 27 agonising minutes to confirm their deaths.
Family members of some of those shot had gathered in marquees on Nusakamgangan Island and were reportedly able to hear the devastating sounds.
Chan and Sukumaran were convicted in 2006 of drug trafficking heroin.
Both men were from Western Sydney and went to the same school. They grew up in loving and supportive families and looking at their school photos they could have been anyone's sons.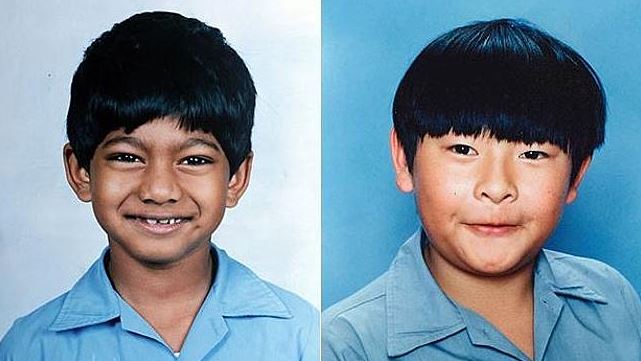 Just a few years apart at Homebush Boys High School the two connected in 2002 when they met through mutual friends.
Sukumaran once revealed to a forensic psychiatrist that his early school years were difficult with racism and bullying being problems.
Chan had a heavy addiction to cannabis from the age of 15 that he only gave up once he was in jail.
Chan and Sukumaran say that their Bali plot first started around a dinner table one night, not realising what it would one day lead to.
Their families made their final journey to 'death island' yesterday to say their goodbyes.
One of the lawyers of the Bali tweeted "I failed. I lost." followed by "I'm sorry".
I failed. I lost.

— Todung Mulya Lubis (@TodungLubis) April 28, 2015
I am sorry

— Todung Mulya Lubis (@TodungLubis) April 28, 2015
"We've carried out the executions," an Attorney General Office official, talking to the press on condition of anonymity, said, The Jakarta Post reported.
A Cilacap police officer told the Post: "The executions went well, without any disruptions."
Prime Minister Tony Abbott and Foreign Minister Julie Bishop addressed media this morning and said that "Australia deeply, deeply regrets these executions."
The Prime Minister explained, "Andrew Chan and Myuran Sukumaran spent a decade in jail and these executions were cruel and unnecessary. These young Australians were fully rehabilitated while in prison."
"Australia respects Indonesia's sovereignty but we do deplore what has been done. This can not be business as usual. Our ambassador will be withdrawn from Indonesia. This is a difficult time for the Australia-Indonesia relationship."
Julia Bishop confirmed the news of the executions, saying "It is with a very heavy heart that I confirm despite our ongoing efforts that our Australian citizens were put to death earlier this morning. These deaths are senseless and unnecessary."
Julie Bishop further reiterated, "Our ambassador with return to Australia later this week."
A statement from the families of Andrew Chan and Myuran Sukumaran has been released with it saying "They asked for mercy but there was none."
Statement from the families of Andrew Chan and Myuran Sukumaran #Bali9 pic.twitter.com/XoEGhhISMK (@Dan_Bourchier)

— Sky News Australia (@SkyNewsAust) April 28, 2015
Prayers were said for each of the eight, according to their respective religion, after the executions.
The others executed were Indonesian Zainal Abidin, Brazilian Rodrigo Gularte, Nigerians Sylvester Obiekwe Nwolise, Raheem Agbaje Salami and Okwudili Oyatanze, and Ghanaian Martin Anderson.
Mary Jane Fiesta Veloso of the Philippines was spared after a woman who allegedly recruited her to act as a drug courier gave himself up to police in the Philippines on Tuesday.
"There was a request from the Philippine president regarding the perpetrator who's suspected of committing human trafficking and surrendered in the Philippines," an attorney-general spokesman said in a text message.
"MJ is needed for her testimony."
Just hours before the scheduled executions, Australia, the European Union and France issued a statement calling on Joko to change his mind.
"In filing this petition, we ask Indonesia to reflect upon the impact on Indonesia's position in the world and its international reputation. We support Indonesia's efforts in obtaining clemency for its citizens abroad. Stopping this execution will help those efforts," the statement said.
"We fully respect the sovereignty of Indonesia. But we are against the death penalty in our country and abroad. The execution will not have a deterrent effect on drug-trafficking or stop others from becoming victims of drug abuse. Executing these prisoners now will not achieve anything."
On Monday, Joko told local media that the executions were a matter of law enforcement responding to a "drug emergency" in the country.
Andrew Chan's brother Michael wrote at heart-wrenching tweet about the execution "I have just lost a Courageous brother to a flawed Indonesian legal system. I miss you already RIP my Little Brother"
I have just lost a Courageous brother to a flawed Indonesian legal system. I miss you already RIP my Little Brother

— Michael chan (@Changa5378) April 28, 2015


Chan, 31, and Sukumaran, 34, are the first Australians to be executed since December 2, 2005, when 25-year-old Melbourne man Van Tuong Nguyen was hanged in Singapore after being caught at Changi Airport with almost 400g of heroin.
The families spent their final hours with their loved ones on Nusakambangan on Tuesday before returning to the port town of Cilacap.
Andrew Chan's brother Michael had earlier tweeted: "Counting down the minutes until I loose a great Friend and Courageous brother.!! You will never be forgotten by so many".
Chan and Sukumaran were allowed to have their chosen spiritual guides with them in their last moments after Indonesian authorities had a change of heart.
Salvation Army minister David Soper and minister Christie Buckingham were to give Chan and Sukumaran solace and their last rites.
Australia's Consul General to Bali, Majell Hind, and lawyer Julian McMahon are also on Nusakambangan for official duties.
Ms Hind will receive the bodies of Chan and Sukumaran and take legal responsibility for them on the island.
They will be driven to Jakarta by local ambulance with an Australian consular officer following the execution.
The Australians' bodies will then be flown back to Sydney.
Chan and Sukumaran's Indonesian lawyer Todung Mulya Lubis has tweeted "I am sorry. I failed. I lost."
Australian politicians have also tweeted their anger at the deaths.
"There are few greater displays of abuse of State power and regressive thinking than the death penalty. #RIP," parliamentary secretary for foreign affairs Steve Ciobo tweeted.
While opposition frontbencher Tony Burke said "Lives lost. Nothing gained. #IStandForMercy".
How executions are carried out:
Prisoners are executed by firing squad, recruited from a special unit of the national police.
Recruits for the firing squad are chosen based on their marksmanship and "physical and spiritual health". They are given counselling before and after executions.
Inmates are moved into isolation cells 72 hours before execution. Families and religious counselors are allowed visits up to a few hours before execution.
Prisoners are given the choice to stand, kneel or sit before the firing squad, and to be blindfolded. Their hands and feet are tied.
Each prisoner has 12 marksmen aiming rifles at his or her heart. Only three of the 12 have live ammunition in their weapons. Authorities say this is so that the executioner remains unidentified.
Medical personnel are on site to pronounce the prisoner dead after execution.