We had to do a double take when reading the final selling amount for the first super rare, Woolworths Ooshie toy that went up for sale on eBay.
The furry Simba toy, which was put up for sale on Thursday last week, was originally priced at $10,000, which at the time seemed crazy!
But that's NOTHING compared to the shocking $100,000, or almost TEN TIMES the original price, that the tiny toy sold for at the auction! Yep, we'd have to take out a loan with the bank to be able to offer that much!
Altogether there were 108 bids made across the five day auction, with the winning bid sitting at $99,900.
There's only 100 of the furry Simba varieties in circulation around Australia from Woolworths stores and so it's fare to say that people are going CRAZY for them.
But this is seriously NEXT LEVEL!
The seller was offering Free standard postage though…so you know…bargain we guess.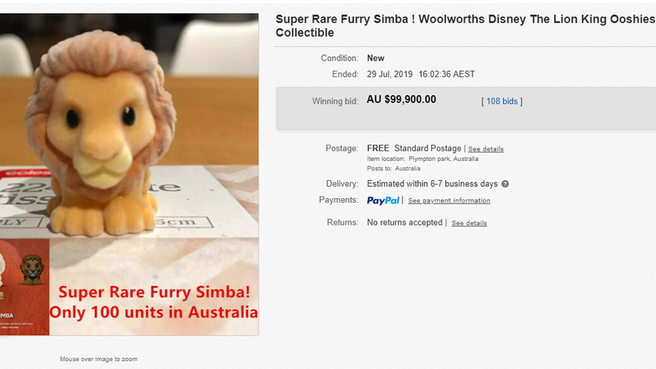 UPDATE: Anyway, sadly for the seller on this one, who must've thought they'd hit the absolute jackpot, the buyer actually cancelled the purchase once the auction had finished, which you are allowed to do on eBay up to an hour after the transaction.
No word yet on what will happen to the Ooshie now that the sale hasn't gone through but it's believed that the seller will re-list the item.
The Woolworths Lion King promotion allows shoppers to grab one Ooshie for every $30 spent in store. It finishes on August 13 and so there's only a short time left to find the remaining rare, Furry Simba Ooshies.
Missed The Christian O'Connell Show? Catch up by clicking play below and join us from 6AM every weekday!