It's with an incredibly heavy heart that we announce Peter Logan, a man we loved and respected dearly, has passed away.
Peter wrote to Christian at the beginning of the year, explaining to him that he was living with stage 4 bowel cancer and wanted to get the message of early detection out to as many people as possible.
Christian did him one better, inviting him on to co-host the Christian O'Connell Breakfast Show for one truly special morning.
So on February 26, 'The Christian O'Connell Breakfast Show' became 'The Peter Logan Breakfast Show'.
It was one that anybody who had listened would not soon forget.
Peter spoke passionately, powerfully and with humour about his disease, the importance of early detection and what his journey had taught him about life.
"I'm not afraid of dying, I'm afraid of not living."
But Peter's influence on the show didn't end when he left the studio.
Hundreds of messages flooded into the station, all echoing that same feeling that Peter's words had profoundly impacted us.
And so 'The Peter Logan Effect' was born.
It was a collective feeling he instilled in all of us, a surge of inspiration to make the very most of our precious time on earth and appreciate what we have.
Peter may have left us, but 'The Peter Logan Effect' will be felt for a long time to come.
A statement from Christian:
It's with a big heavy heart I share the news that our good friend Peter Logan has lost his fight to cancer.
Peter emailed me last year saying he had stage four bowel cancer which could've been detected and treated earlier had he done the bowel test. He wanted to see if we could spread the message about doing the test. I thought no one better to share that message than Peter himself so I invited him onto the show and he co-hosted it. Knocking it out of the park and throwing shade on me!
It was a show I will always remember. I've lost too many friends and family members to cancer and it terrifies us. No one wants to hear about it 8am on the radio but Pete took it out into the light and refused to lessened by it. We know that Peters message made a huge difference with a massive spike in tests being completed. Despite batting cancer in only his early 50s, it says so much about the man he wanted to help others. And he did. How many of us can say that about our lives?
Many of you will have seen Pete and his lovely wife Sharon and kids at many of our events last year. They were part of our family.
I saw him over Christmas as the end was coming. You wouldn't have known though as he was still fresh and vital and holding court in his garden.
The call yesterday from Sharon whilst heartbreaking meant at least this great man was at peace and rest.
Personally for me, I'll always be so humbled by knowing Peter and the faith he placed in me. Last week we were still swapping emails. His final line will stay in my heart forever
'Keep up the humour, and never forget the human'
Thanks Peter Logan, in the words of your favourite band Pink Floyd, Shine on You Crazy Diamond
See you again soon Pete
Love you mate
Christian
ORDER A BOWEL CANCER TEST ONLINE, BY CALLING 1800 555 494 OR TAKING THE FREE TEST SUPPLIED BY THE AUSTRALIAN GOVERNMENT TO ELIGIBLE 50-YEAR-OLDS.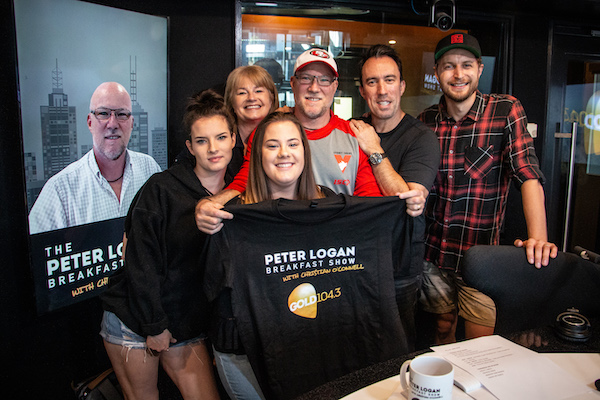 Missed The Christian O'Connell Show? Catch up by clicking play below and join us from 6AM every weekday!