The MOST competitive series of The Block ever is set to wrap up this Sunday, when all five amazing apartments go under the hammer.
After putting their lives on hold for six months, the couples have the potential to earn millions when the bidding begins. Seems like all the hard work, sweat, tears and arguments were worth it. Right?
Potentially not! Block Contestants Kim and Chris don't seem so sure.
Kim and Chris already made headlines earlier this week when they angrily confronted the judges.
"It's no surprise we are not really interested in meeting the judges at this current time," said Chris.
"We're very hesitant in going up and acting like they haven't affected us. We'll let them know we're not happy with some of the comments that have been made."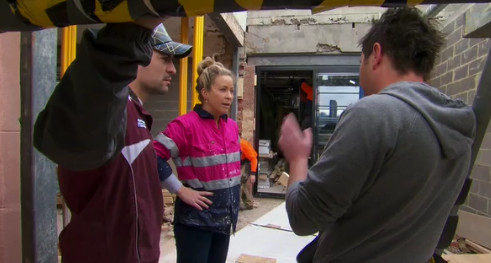 Now they're in the spotlight again after admitting that appearing on the show hasn't been the easiest of roads for them.
The couple have hit out at the producer's editing tactics on the show.
"The editing hurt at times," Kim told The Daily Telegraph.
"We knew it would be hard work, we always said the sleep deprivation would be on our side — as we've had training with the kids — but it was a big mental game too," Mrs Elliott said.
It hasn't been an all negative experience for the couple, who say they have memories to last a lifetime. Their children have enjoyed being a part of the experience.
"We get out as much as we can and any time someone says hi, Chloe asks if people want a photo as she's been on TV," Kim told The Daily Telegraph.
WHich couple from the block DO YOU THINK WILL TAKE HOME THE MOST money? TELL US IN THE COMMENTS SECTION BELOW.
Source: Daily Telegraph
Missed The Christian O'Connell Show? Catch up by clicking play below and join us from 6AM every weekday!