Sinead O'Connor has retired her hit song Nothing Compares 2 U.
The Irish singer says she has ceased singing the Prince composed classic for good.
In a statement on her Facebook page Sinead wrote: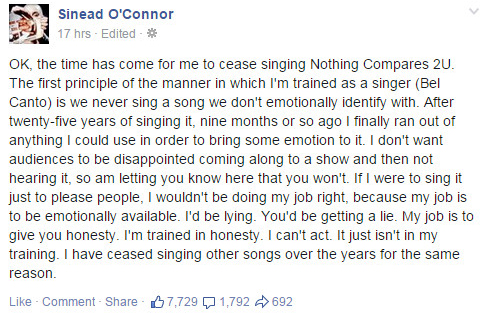 Nothing Compares 2 U was written by Prince in 1985 for his side-project The Family.
The song originally appeared on The Family's one and only album that year.
O'Connor recorded the song as a tribute to her mother who had died in 1985.
Her version of the song was included on her second album I Do Not Want What I Haven't Got, released in 1990.
The album sold over two million copies in America and was also double platinum in the UK.
The song won a Grammy Award for Best Alternative Music Performance in 1991, however Sinead refused to accept the award.
AAP
Missed The Christian O'Connell Show? Catch up by clicking play below and join us from 6AM every weekday!