Controversial tennis player Nick Kyrgios has branded legendary swimming star Dawn Fraser as a racist after she was honoured on the Queen's Birthday with a Companion of the Order of Australia.
Speaking on Sunrise about the honour, Fraser said:
'I'm so very grateful that I'm Australian and I've been given this honour by the Governor-general, it's just absolutely fantastic'
Kyrgios retweeted Sunrise's tweet with the inflammatory comment 'Racist tho', resparking the feud between the two from over two years ago.
Racist tho https://t.co/0DJRoNB5PH

— Nicholas Kyrgios (@NickKyrgios) June 11, 2018
Speaking about Kyrgios, who is of Greek and Malaysian heritage, in an interview on Today in 2015 Fraser said Kyrgios and Bernard Tomic should 'go back to where their parents came from.'
Her controversial comment came after Kyrgios's fourth round loss at Wimbledon to Richard Gasquet where he was accused of 'tanking' in the second set.
Fraser told host Karl Stefanovic,
'They should be setting a better example for the younger generation of this country, a great country of ours'
'If they don't like it, go back to where their fathers or their parents came from. We don't need them here in this country to act like that.'
Kyrgios responded in a since deleted tweet.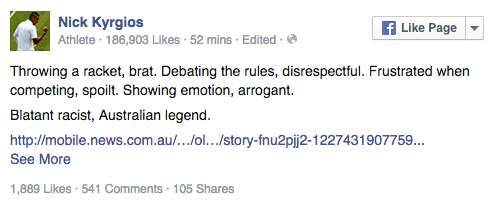 'Throwing a racket, brat. Debating the rules, disrespectful. Frustrated when competing, spoilt. Showing emotion, arrogant. Blatant racist, Australian legend,'
Fraser then defended her comments in an interview with Fairfax Media, 'I'm not a racist person, if you take it that way then I'm sorry that you take it that way, but I'm not racist at all,' she said.