Gold 104.3 newsreader Maddie Burke was shocked to receive a phone call when she was about to read live news this week.
A vet clinic in her former home-town of Perth was calling to inform her a pet cat she lost four years ago had been found!
It was July in 2015 when Maddie and her cats, Theo and Audrey had to move into a new house with a new house-mate as Maddie was heading overseas on holidays.
As any fur-parent would know, our precious pets take a while to adjust to a new property, and cats need to be kept indoors for a few weeks before being allowed outside. The pressure was on, with only a few weeks before Maddie went on holidays, so she made sure she was home as much as possible so the pets could adapt to their new surroundings.
When Maddie was away, her new housemate became concerned when he realised he hadn't seen the tiny, timid black cat, Audrey for a few days. This wasn't uncommon for Audrey, as she was skittish, shy, and would often hide away.
Sadly, upon Maddie's return home a few weeks later, little Audrey was nowhere to be found.
"Lost Cat" posters were placed in letterboxes for blocks around Maddie's home, as well as multiple posts shared on social media, and phone calls made to pet shelters, the local council and vets.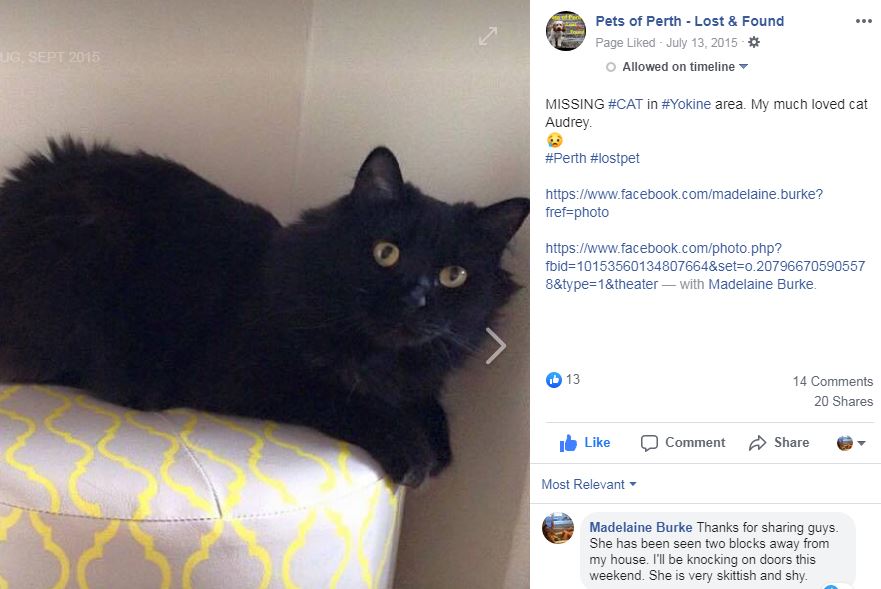 Maddie walked around her neighbourhood at night after work, as the concern and guilt crept in, with a nasty storm on the way.
The weeks turned to months, and Maddie had to accept that she may never learn what happened to her beloved pet.
Late in 2017, she packed up and moved her life to the other side of the country, after being offered a job on the other side of the country, reading news for KIIS 101.1 and Gold 104.3.
Then, on the 13th of May this year, while in the newsroom, Maddie noticed she had two missed calls and two voice-mail messages from the same, unknown number.
"The calls couldn't have come at a worse time", said Maddie. "My iPhone screen had stopped working, so while I could see the calls and voice-mails flash on my screen, I was unable to unlock my phone to answer calls or check messages".
At the end of her shift, Maddie called the number from her desk phone, which diverted to a Vet Clinic in Perth. The receptionist placed her on hold while they figured out who had left the messages, and what they were about. Then came the moment that left her stunned.
"Hello. Is this Madelaine Burke?"
"Yes".
"We've had someone bring in a lovely chocolate fluffy cat called Audrey this afternoon".
The vet nurse went on to explain that a woman had noticed a shy little cat around her home in recent weeks, and had started to feed her. She noticed the cat had a sweet personality, and wondered if it had an owner, so took it to her local vet to be scanned for a micro-chip.
"The woman lives just blocks away from my old home", said Maddie. "I found the original post on Facebook that I had shared when Audrey disappeared, and is was shared on the 13th of July in 2015. The day I received the phone call to say she was alive was the 13th of May, 2019 – 4 years and 2 months later.
"I never wanted to accept that she was gone forever. It was just last year that I made a call to the Pet Insurance company to cancel my policy!"
13th July, 2015: My beloved Pet cat, Audrey goes missing.

13th May, 2019: She's been FOUND.

— Maddie Burke (@Maddie_Burke) May 13, 2019
Missed The Christian O'Connell Show? Catch up by clicking play below and join us from 6AM every weekday!