A Queensland man has been dubbed "Australia's Sleaziest Boss" after four young women came forward to speak of the sexual harassment they suffered at his workplace.
Ravi Sathivayan is accused of sending lewd and sexually explicit texts to the former employees and made unwanted advances while they were working as receptionists for his panel beating business in Underwood.
The alleged victims, all young and blonde, have exposed hundreds of disturbing text messages they received from Mr Sathivayan's phone while they were working at Accord Bodyworks.
They spoke to A Current Affair about the unwanted sexual advances they were subjected to while working there.
Another former employee, 18-year-old Chloe, could only stay at the company for four weeks before she quit after receiving a highly inappropriate text.
"I have another job for you on weekends," it read. "Look pretty and be my personal stripper."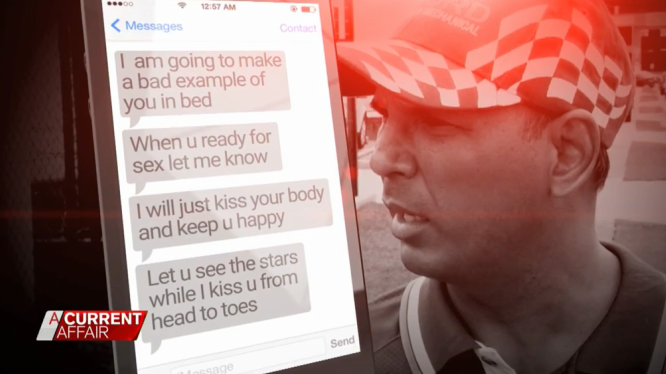 Explicit texts send to Chloe from Mr Sathivayan
Chloe sent multiple texts telling him to stop: "I never want to sleep with you, find someone UR own age to sleep with yuck."
Another former employee Caitlin, 19, said the abuse continued long after she quit, with Mr Sathivayan sending a crude message to her boyfriend, in which he claimed he slept with her and had it filmed.
"She told you how I was f***ing her in the car and the guys video her. She was begging to suck my d*** and to kiss you after," he wrote in the text.
Amber, 20, only lasted three weeks in the job, traumatised by the shocking experience.
"You're just thinking about when's the next stroke or touch," she told ACA.
"I find it disgusting how anyone can behave like that towards young women."
Psychologist Christine Bagly-Jones told ACA that sexual harassment in the workplace can seriously impact young people.
"It can be very destabilising for a person and can sometimes change their decisions regarding their career and their future," she said.
"It can certainly impact their confidence.
"It is an abuse of power, that is the simple truth."