Mike Gunner from this season of Married At First Sight left a lot of viewers fuming following his comments about women during the finale episode.
But apparently not everyone was turned off by the controversial remarks.
In fact, some fans have actually called for the reality TV star to head back to our televisions in the search for love as the next Bachelor. (Or next, next Bachelor, seeing as we already have one for this year).
The 44-year-old posted a photo to Instagram of himself at an event with the caption, "Always tuck your shirt in", when the idea was first brought up.
"You deserve a shot at the new Bachelor. Get your act together… But select wisely, no women who need a therapist! On ya Mikey," commented one fan on the post.
The comment itself received 20 likes from mostly female followers and was even liked by Mike himself, signalling that he'd be open to the idea.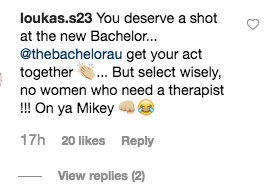 Other fans also commented their approval with one writing, "Yes, yes, yes" and another added, "Hell yeah, I wanna see him on Bachy too. You could definitely make a good one!".
The positive comments kept on rolling in, but we reckon when it comes down to it, Bachie producers will think twice before making the former MAFS star their next leading man.
A lot of people were left shocked by Mike's comments on the MAFS finale, when he stated that women couldn't cope as well under pressure as men.
He made the comment after one of the experts, Melissa Schilling, asked the women why they think things turned so catty between them.
"There's a few things I'd like to point out. I think groups of women under pressure don't cope as well as groups of men under pressure," Mike said at the time to the shock of his fellow contestants.
"There's a difference between men and women, don't mistake that. "I mean, the matriarchy and the patriarchy are two different things entirely, and there are different dynamics at play."
"We're seeing these girls have fallen apart and the men haven't," he added.
"Any group of men that are put in this same type of situation, maybe this just doesn't speak to their biology… There is actually some merit in that."
Wow. Yeah we think The Bachelor really isn't the place for you then Mike seeing as the large group of women that would be there vying for you heart seemingly can't cope in that environment… *rolls eyes dramatically*.
More: Is MAFS' Mike Dating The Worl'd Hottest Grandma's Granddaughter?