After all the editing blunders over the past six weeks, we thought the editors of Married At First Sight would have perfected their craft, but unfortunately, that's not the case.
The latest editing fail occurred during the home stays when Tamara's aunt Cheryl quizzed Dan about his true intentions.
Devoted fans took to social media to point out that all of her questions had gone through an approval process.
If you pause on the questionnaire, you may notice that Cheryl planned to ask Dan if he was on the show for 'fame' – much like his younger brother Sam, who starred on Australian Survivor in 2016 before landing roles on Neighbours and Home and Away.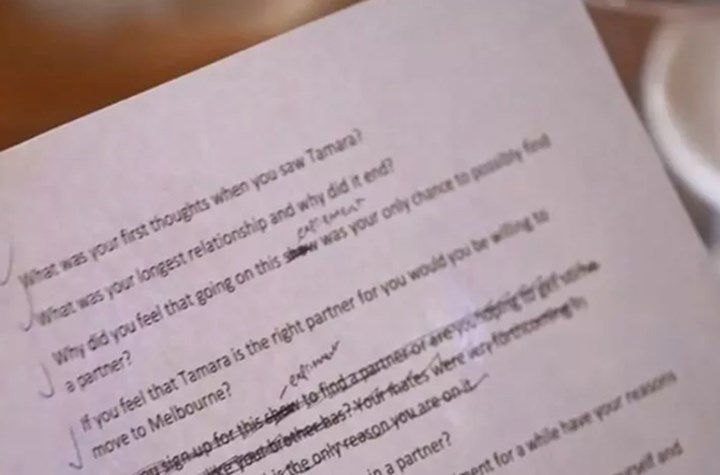 However, her question was revised to appear less blunt and controversial, so she opted to ask Sam: "Are you in this for the right reasons?"
A shot of the script also reveals that the word 'show' had been crossed out and replaced with 'experiment'.
It also shows big ticks next to questions that had been approved, such as "What was your longest relationship and why did it end?" and "Would you be willing to move to Melbourne?"
We wonder what the next editing blunder will be…
Married At First Sight continues tonight at 7:30pm on Channel Nine.
read more: MAFS' TAMARA CONFIRMS HER 'HOUSE' WAS A $150 AIRBNB