George Michael's former partner Fadi Fawaz has gone on a huge social media rant.
In the tweets, Fadi, 46, says that Michael was HIV positive, didn't write his own music and was using drugs before his death.
The hairdresser said 'George Micheal was HIV+. We found out in Vienna after his illness."
"He never wrote his own music he paid other people to make the music for him and pretended it was him. Not so talented after all ..' Fadi tweeted:
'Not being hacked it's actually me' before sharing a selfie and carrying on his rant.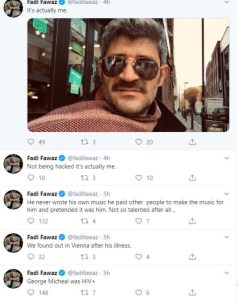 He then wrote 'Towards the end George Micheal smoked his crack using an Evian bottle. 'Friday night David and I would go to London so he could smoke crack and have escorts over Sunday night would come home to Goring he would be still at it. So sad [sic].'
Faward is reported to have been sleeping rough following his removal from Michael's home in Regents Park, London.
George died of naturual causes on Christmas Day 2016, with the cause of death being determined as dilated cardiomyopathy with myocarditis and fatty liver.
Missed The Christian O'Connell Show? Catch up by clicking play below and join us from 6AM every weekday!