As the world woke up to the news that former Wham! member and all-round phenomenal superstar George Michael had died, the tributes wasted no time in pouring in.
He passed away on Christmas Day, at home in England, his publicist said earlier in a statement. The cause is no known.
He was only 53.
Rest with the glittering stars, George Michael. You've found your Freedom, your Faith. It was your Last Christmas, and we shall miss you.

— George Takei (@GeorgeTakei) December 25, 2016
Unbelievable.
RIP George Michael.

— Ricky Gervais (@rickygervais) December 25, 2016
I just heard about my friend @GeorgeMichael's death. He was such a brilliant talent. I'm so sad.

— Ellen DeGeneres (@TheEllenShow) December 25, 2016
So sad to hear of death of #GeorgeMichael. Freedom still one of my favourite go-to albums. Thank you for the music. Wishing you sweet peace.

— Lisa Wilkinson (@Lisa_Wilkinson) December 26, 2016
George Michael was a kind and gentle soul. #Wham

— Ryan Reynolds (@VancityReynolds) December 26, 2016
I've loved George Michael for as long as I can remember. He was an absolute inspiration. Always ahead of his time.

— James Corden (@JKCorden) December 25, 2016
George Michael was the original Carpool Karaoke guest https://t.co/HL9gqemR8O

— Nolan Feeney (@NolanFeeney) December 26, 2016
"This year to save me from tears I'll give it to someone special" And this year @GeorgeMichael has given his heart to heaven. #georgemichael

— Jake Moyes (@TheJakeMoyes) December 26, 2016
Sarah Michelle Gellar almost got it right.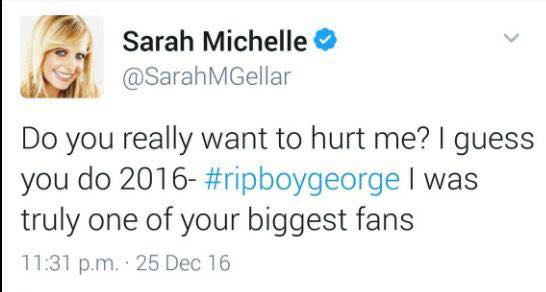 Just as sad when you get the correct information- #ripGeorgeMichael thank you to everyone who corrected me- it's still so sad

— Sarah Michelle (@SarahMGellar) December 25, 2016
The cover star in June 1987 #GeorgeMichael pic.twitter.com/Rj4RGH4CXu

— Smash Hits 1980s (@SmashHits1980s) December 25, 2016
Missed The Christian O'Connell Show? Catch up by clicking play below and join us from 6AM every weekday!