A mother-of-two says she has been unable to sleep after taking a photo of her children, only to discover later on that there was a ghostly apparition standing behind them.
The woman, Laura took a photo at Plessey Woods Country Park in the UK of her daughter Charlotte Hill, 15, and Byrin Watson, nine, climbing a tree with their cousin Jack, 16.
It was only later that Laura realised there was another child behind Byrin – despite no one else being in the area at the time.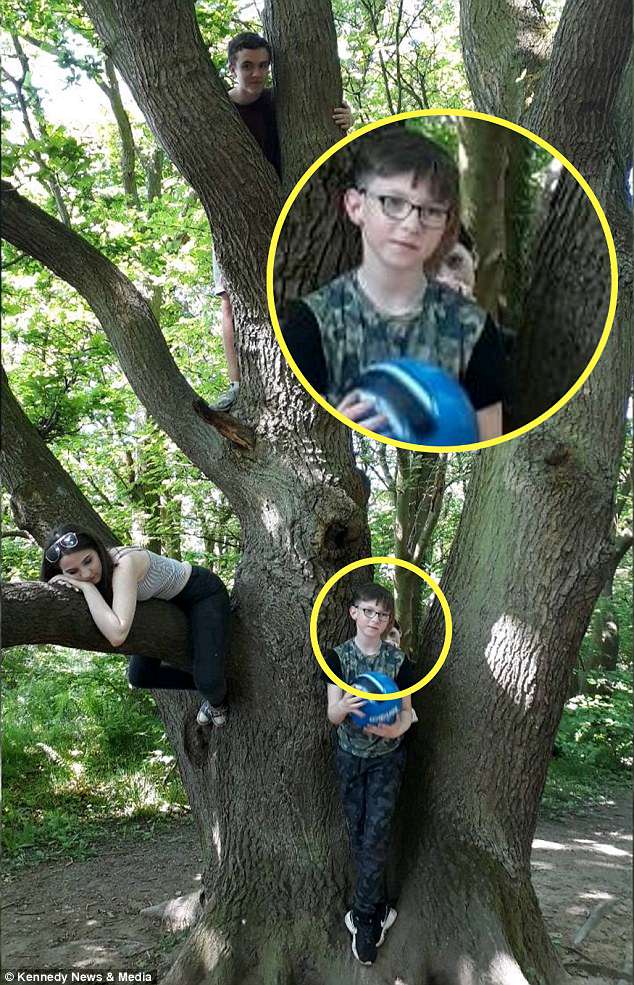 Laura said: 'It's very unusual and everyone is really freaked out. Me and my daughter couldn't even go to sleep last night because we were so scared.'
'My husband is on night shifts and I was alone and I was like 'oh God'. I was terrified in case anything had followed us back.'
'I've had people on our Facebook saying they are going to send me prayers.'
'I didn't believe in anything like that until I saw this for myself.'
Laura continued: 'There was no one behind the tree, my daughter or my nephew would have seen them. There was nobody there.'
'There was only us there. It's very, very bizarre.'
'When I got home I put the picture on the computer and when it zoomed in and I was able to see it closer, I thought what is that thing behind Byrin?'
'When I zoomed in further I could see a face. But I was like 'but there was nobody there!'
'It looks like a child to me, I don't know if it's a girl or a boy. But I can see this face and it looks like the hand is on my son's shoulder, which is very bizarre.'
'Some people have said I must have Photoshopped it as they can't believe it.. But I've explained that I wouldn't even have a clue how to do anything like that.'
'It was literally taken on phone. I'm rubbish with technology and I'm just not the kind of person to do that. There's no way that is anything but what it is – you can basically see a face.'
'For someone to be that close to my son, if it was another child, he would have noticed them.'
'I would have seen them and I wouldn't have taken a picture with another kid behind him.'
Laura added: 'I don't know much about the history of the woods but some people are saying that many moons ago a young boy drowned in the river. You don't know if it's just hearsay.'
'People are asking if Byrin had a twin and if he died but he had nothing like that. I've not had any kids die in my family so it couldn't be anyone that I know.'
'It certainly isn't something that I'm familiar with. I've never, ever experienced anything like it in my life.'
Daily Mail
WATCH: Ghosts In Baby's Cot