They're the band that sung 'everywhere you go, you always take the weather with you'. Tonight the rain poured at the 30th ARIA Awards in Sydney and Crowded House paid tribute to the late Paul Hester as they were inducted into The Arias Hall Of Fame.
From the ashes of the legendary quirky Kiwi band Split Enz came one of the most successful and well loved bands of the 80's and 90's, Crowded House. Tonight they were honoured by being inducted into the ARIAs Hall Of Fame.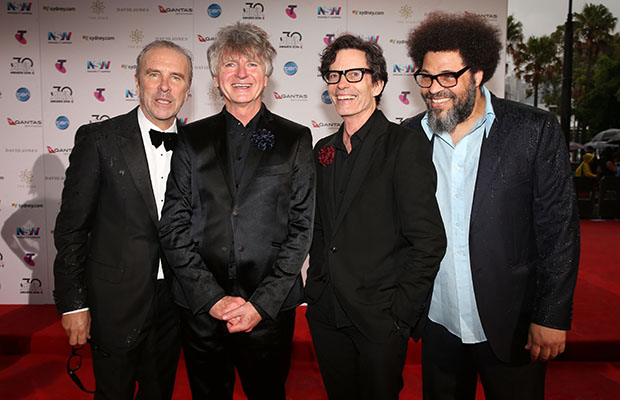 (Crowded House arriving at the ARIA awards)
Ahead of a four night Encore stand at the Sydney Opera House, Crowded House was honoured with standing ovations when they took the stage at the awards, welcomed onstage by kiwi comedy duo Flight Of The Conchords.
Fair Dinkum. Crowded House #arias #HallOfFame pic.twitter.com/7hCr38emPz

— Peter Brown (@SydneyEditor) November 23, 2016
Neil Finn took to the stage thanking his wife, Sharon, his sons Liam and Elroy and his 90-year-old father.
But it was his tribute to his late bandmate, Paul Hester, that had tears flowing. Hester, the band's drummer, tragically died in 2005.
Finn paid tribute to Hester saying "We wouldn't have been anywhere as near as amazing and amusing and engaging as we were with Paul,"
He then thanked Hester's 'beautiful daughters Sunday and Oliver' for sharing the special evening with them.
The band's speech was followed by a performance of Fall At Your Feet by Missy Higgins , followed by Bernard Fanning singing Better Be Home Soon and then Crowded House performed the spine-tingling song, Distant Sun.
Heart hurting, just a bit, thinking about Paul Hester and Crowded House's well deserved induction into the Hall of Fame. #ARIAs

— mez just mez (@mynameismez) November 23, 2016
Crowded House @ #ARIAs pic.twitter.com/PAQblIGxJe

— Tola`ath (@rosharonn) November 23, 2016
And when asked about their successful reunion shows? Bassist Nick Seymour expressed that "We never take for granted the fact that people are excited and energised about us playing. We're determined to make those shows sing and fly and be as good as if, not better than what we were."
"They will have a lot of emotion wrapped up in them."
"We want to be able to live up to people's expectations." "[We're] properly nervous."
"We just want to get it right and send people away blown away. Nothing less."
Crowded House, we salute you!