Photo: Sukumaran's Order of Service (AAP)
Bali Nine member, Myuran Sukumaran has been remembered at a funeral service in Sydney.
A week after the convicted drug smuggler's execution, more than 1200 mourners gathered to say farewell at DaySpring Church in Castle Hill.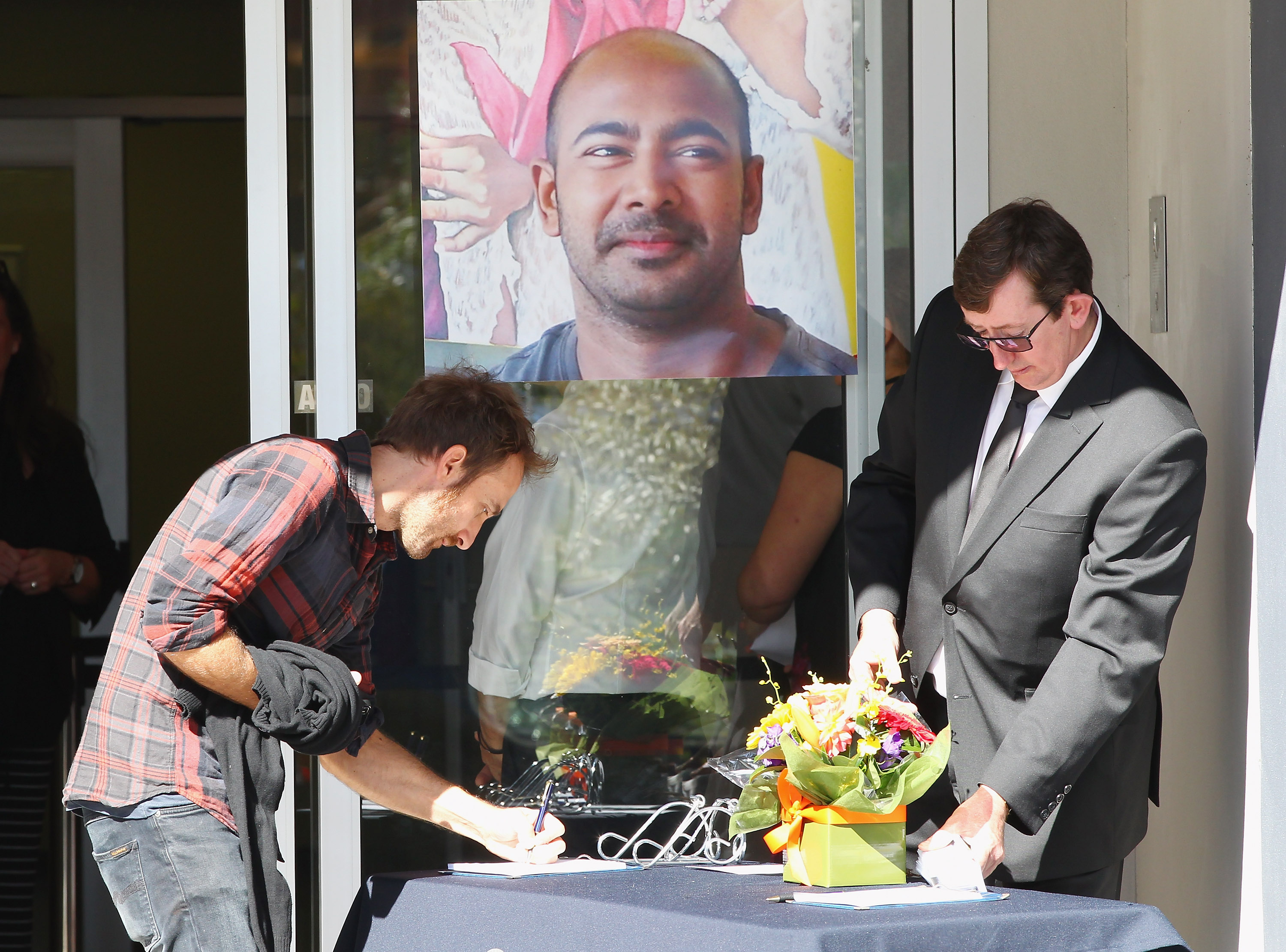 Photo: A mourner signs a registry book (Getty)
Artist, Ben Quilty, who forged a close friendship with Sukumaran as his mentor in a Bali jail over many years, was among the speakers.
According to the ABC, Quilty talked of the senselessness of his friend's death.
"My grief is personal, I lost my friend last week, but the senselessness of what happened to my friend, has made me see very clearly that the act perpetrated on him was the closest to evil as I have ever seen," he said.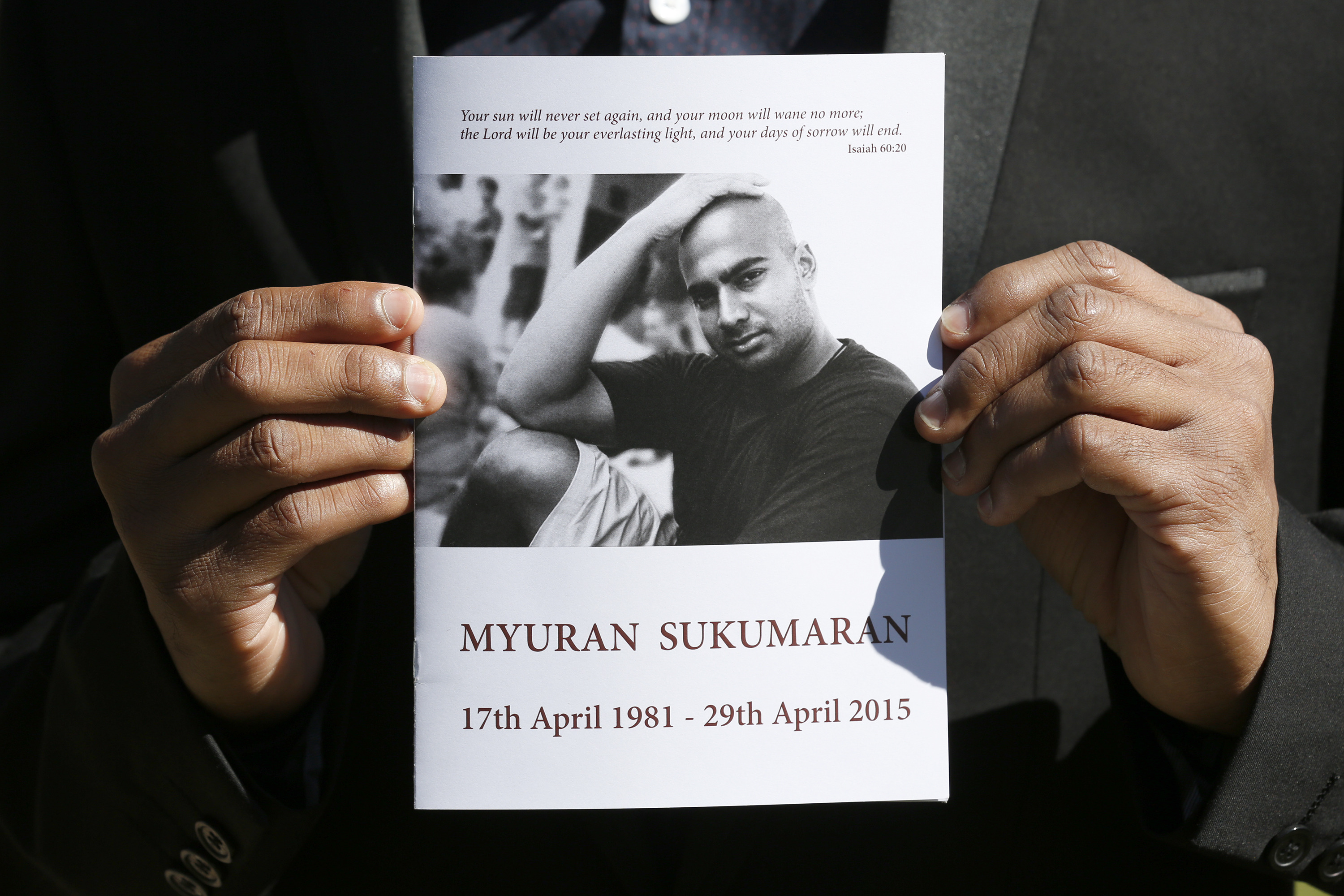 Photo: Sukumaran's Order of Service (AAP)
During the service, Sukumaran's mother spoke of her grief.
"This should have been the day that I stand here to thank and praise the lord for showing mercy for my son, instead, I am here to pay tribute to his life," she told the crowd.
Sukumaran became a talented artist in jail with the 34-year-old's last painting – titled Time is Ticking – providing a haunting glimpse of what it was like to wait for a bullet on death row.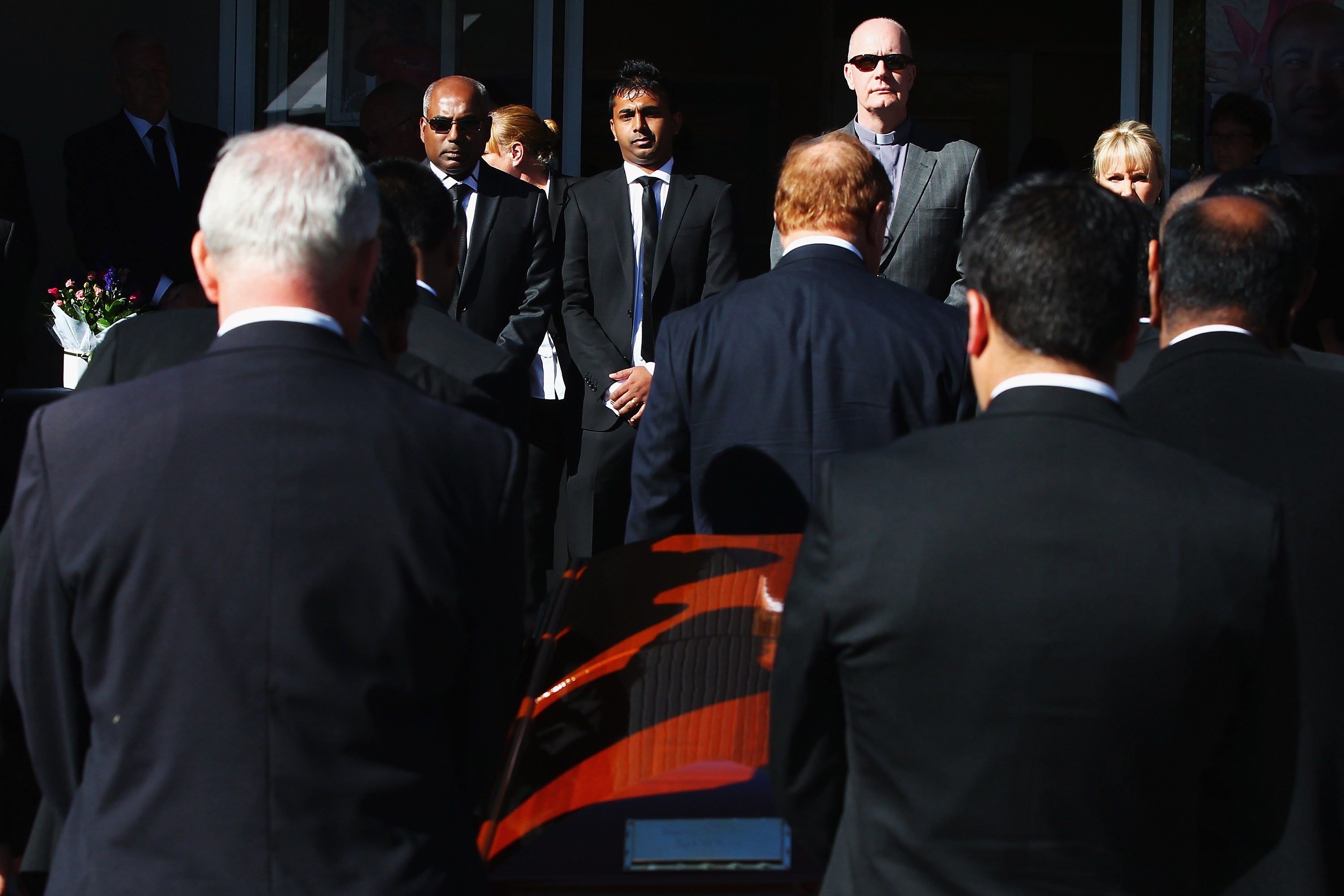 Photo: Myuran's brother, Chintu, looks on as Myuran's coffin is brought into the church (Getty)
Fellow convicted Bali Nine drug smuggler Andrew Chan, who was executed alongside Sukumaran in Indonesia on April 29, was laid to rest in Sydney on Friday.
Chan's widow read some of the pair's final letters to each other at the funeral.
Febyanti Herewila-Chan married the convicted drug smuggler in Indonesia two days before his April 29 execution.
In her final letter to her new husband, Ms Herewila-Chan said she told Chan to keep singing as he was lead to the execution field, and that when he got to heaven he could ask Jesus to send him back to her.
"If you're happy to stay there (in heaven), don't worry about me," she read to the crowd of more than a thousand mourners at the Hillsong megachurch in Baulkham Hills in Sydney's northwest.
Chan told her to continue his vision for Indonesia.
"Continue to fight for the rights of the injustices in this country," he told her.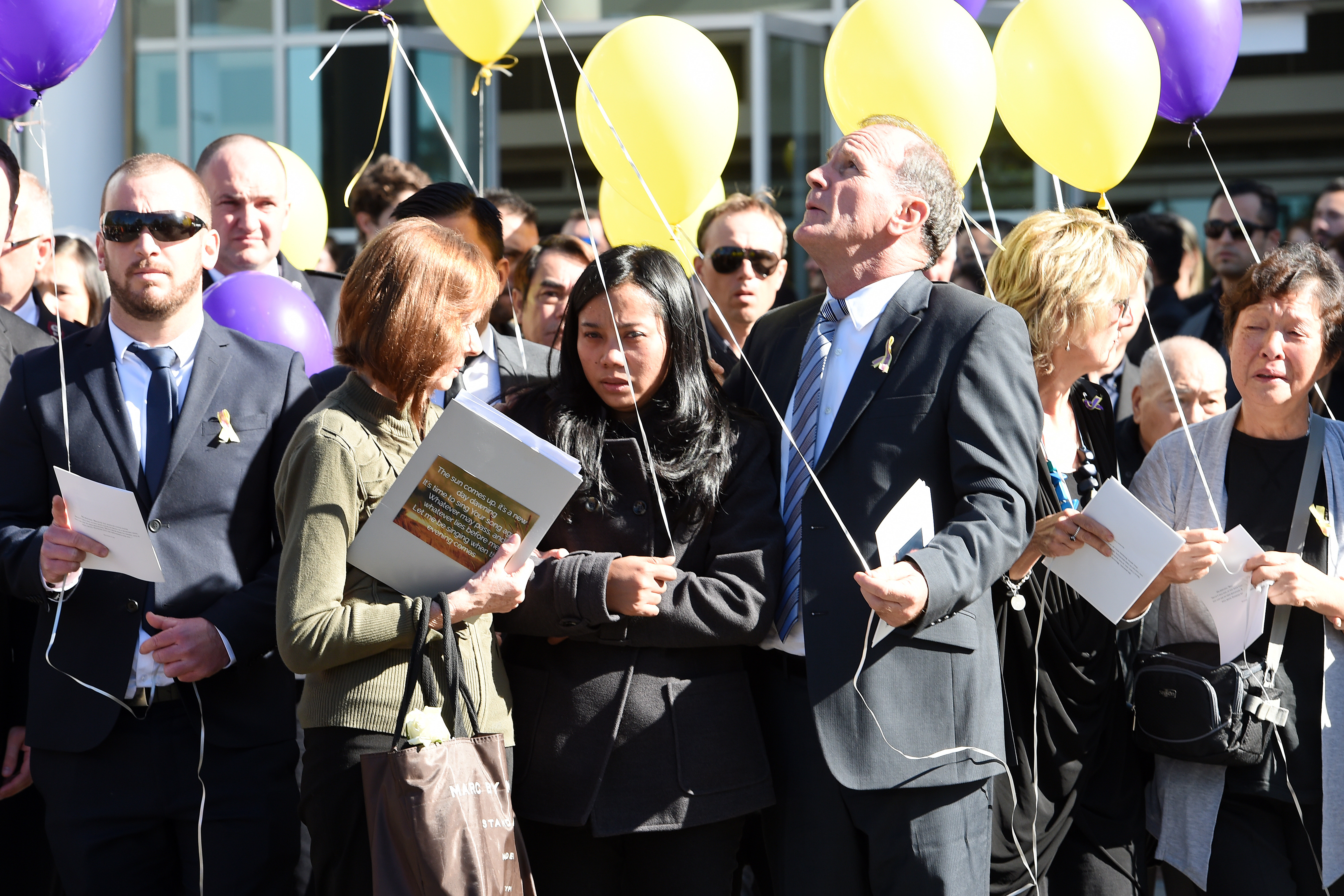 Photo: Andrew Chan's widow at his funeral (AAP)
Ms Herewila-Chan, a Christian, said she had questions for her God following the execution but said Chan had kept his faith until the end.
"I remember I was there when his clemency was rejected," she said.
"I was so broken but he (Chan) holds me and said `don't worry God is in control'."
She said no one could have faced death with as much courage as her husband, who, with other prisoners, chanted "bless Indonesia, bless Indonesia, bless Indonesia" in his final moments, she said.
"Andrew managed to end it well," she said.
"Andrew managed to forgive those who hurt him.
"It is only because of Jesus."
Earlier in the service, Chan's brother, Michael, said the executed Australian drug smuggler had taught him the meaning of "courage and dignity".
He reflected on the changes Chan had made during his 10 years in an Indonesian jail, and promised to look after his "new sister", Ms Herewila-Chan.
"Andrew showed me that everyone can change and change for the better," Michael said.
"Andrew, you used to say that you looked up to me. Now, little brother I look up to you."
Up to 1600 mourners at the Hillsong megachurch stood as one as pallbearers carried in Chan's coffin at the start of Friday's service.
There were cries of "Amen" from the crowds as family friend to the Chan's Major David Soper said of Chan: "He is with his maker".
Major David Soper, acknowledged the presence of the Sukumaran family at the service.
AAP/Staff Writers
Missed The Christian O'Connell Show? Catch up by clicking play below and join us from 6AM every weekday!