Rescuers have pulled a 101-year-old man alive from his ruined home a week after Nepal's earthquake claimed at least 7200 lives, as the government warned the death toll would climb "much higher".
Funchu Tamang was rescued on Saturday from the rubble of his house with only minor injuries to his ankle and hand, after the quake ripped through the impoverished country on April 25.
"He was brought to the district hospital in a helicopter. His condition is stable," police officer Arun Kumar Singh told AFP from Nuwakot district, around 80 kilometres (50 miles) northwest of Kathmandu.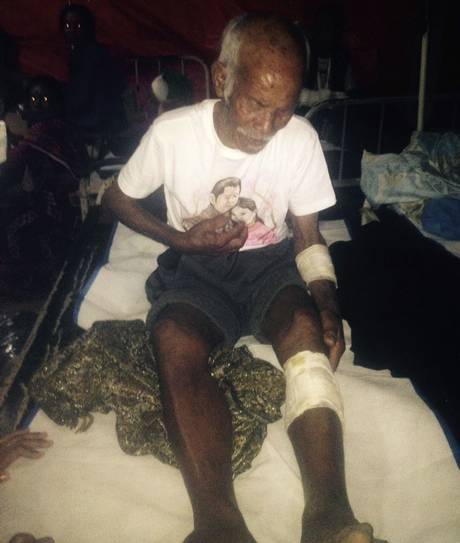 Image from independent.co.uk
The rescue was rare good news for the devastated country after officials on Saturday ruled out finding more survivors buried in the ruins and the focus shifted to trying to deliver aid to thousands of people in remote Himalayan areas.
Finance Minister Ram Sharan Mahat said the death toll was likely to jump once relief teams reach mountain villages flattened in the worst quake to hit the nation in more than 80 years.
"There are still villages where we know that all houses have been destroyed, but have not yet been able to reach," Mahat said in a statement.
"The aftershocks have not receded and we expect the final casualty numbers to climb much higher," the minister said, as he appealed for hundreds of millions of dollars in foreign donations to help rebuild the country.
The 7.8-magnitude quake wreaked a trail of death and destruction, reducing much of the capital Kathmandu to rubble and triggering a deadly avalanche on Mount Everest.
In the worst-hit districts of Gorkha and Sindhupalchowk, almost 90 per cent of the mostly stone and mud homes have been destroyed, the United Nations said in its latest situation report.
"Our priority now is really to try to reach those people (in remote areas), get immediate assistance to them," the UN's head of humanitarian affairs Valerie Amos said.
The relief effort received a boost late Sunday when a United States Air Force C-17 aircraft and four tilt-rotor Ospreys landed in Kathmandu.
"They're going to make an immediate difference," US Brigadier General Paul Kennedy said.
"We've got search and rescue teams waiting to go out to the remote areas, we've got relief supplies, especially shelters. Most people don't understand that a shelter is the most pressing need, so we're going to take these things out starting tomorrow morning," he added.
International planes loaded with relief supplies have poured into landlocked Nepal, but there have been numerous reports of many getting stuck at Kathmandu's small airport, and customs officials stopping trucks filled with aid from neighbouring India.
Tribhuvan International Airport has also been closed to heavy planes over concern about the condition of the single runway after the quake and a series of strong aftershocks, said Birendra Prasad Shrestha, the airport's manager.
"We have issued a notice saying that aircraft with a total weight exceeding 196 tonnes will not be allowed to land at Kathmandu airport," Shrestha told AFP.
"There are no visible cracks in the runway but there have been so many tremors recently that we have to take precautions – we don't know what's happening below the surface."
The death toll from the disaster has hit 7250, according to the Emergency Operations Centre, with more than 14,000 injured. More than 100 were also killed in India and China.
Fifty-one bodies, including those of six foreigners, have been found in the popular Langtang trekking region hit by a quake-triggered avalanche.
"We estimate that about 100 foreigners might still be missing in the area," senior local official Uddav Prasad Bhattarai said.
"Our priority was to get the survivors out. We rescued over 350 people, about a half of them were tourists or guides," he told AFP in Rasuwa district that includes Langtang, north of Kathmandu.
Climbing firms Sunday called off their Everest spring expeditions, after the quake-triggered avalanche killed 18 on the world's highest peak.
AAP
Missed The Christian O'Connell Show? Catch up by clicking play below and join us from 6AM every weekday!