Teenage Bushfire Victim Gets Into Fight With Police
Charlie Clarke had his family's winery devastated in the Bunyip bushfires, now he's in hospital after a scuffle with police. 
The 19-year-old is the son Andrew Clarke, owner of Jinks Winery who made headlines across the country for his heartbreaking live crosses during the fires. 
Police claim that on Wednesday Charlie was "verbally aggressive" towards a senior constable in a patrol car. They allege when the policeman stepped out of the car, Clarke pushed him in the chest. 
"The man was restrained and taken to the ground to prevent any further altercation," a spokesman said.
The Clarke family however, saw the incident differently. 
"He's a boy, he's 19, a willowy, six-foot kid, not a muscle man, and a cop said something rude to him on Saturday and they had a bit of a confrontation," father Andrew said.
"[Today], Charlie was leaving with his cat to take it to the vet, because we found it today and all its paws were burnt off and everything. So we were taking it to the vet and he saw that same policeman again and he said, 'Can I get your name?' and started filming him with his camera.
"They had a kerfuffle," he said.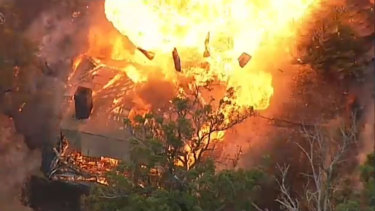 Charlie's sibling Lucy also weighed in:
"He grabbed my Mum around the neck after she was worried because he had thrown my brother's head into the ground. My brother has had a concussion in the last two weeks," she said.
Charlie spent the night at Warragul Hospital and was wearing a neck brace, the family said.